.September 22, 2004
.
This Week:
© 1998 - 2004 Copyright &
Disclaimer
Automotive Intelligence,
www.autointell.com
All Rights Reserved .
For questions please contact
editor@autointell.net
.
Chevrolet Matiz M3X: Cheeky and quick mini-car concept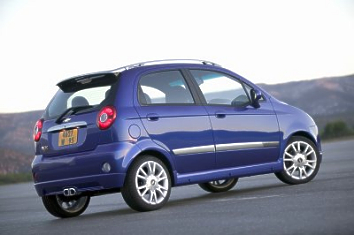 Fayence, FRANCE - Chevrolet's Matiz M3X show car offers a glimpse of the next generation of the popular Matiz mini-car. The car will make its debut in South Korea and Europe in spring 2005 and in numerous additional markets around the globe in the second half of 2005 or early in 2006.

One particularly striking feature of the production concept is its round LED front headlamp design, which is matched at the rear by its signature round taillights. The overall style of the M3X conveys a striking personality due to a combination of short body overhangs, steeply rising shoulder lines and converging feature lines in the engine hood.
A roof spoiler underlines the sporty look of the car, as do the twin, centrally positioned exhaust pipes and the large 16-inch alloy wheels with their double-spoke design. Side indicators are located below the front headlamps and for added safety in the side mirrors.
The large, panorama glass roof highlights an exceptionally light interior. The roof can be opened to provide plenty of fresh air. It also allows a clear view into the spacious cabin, which, with the M3X is a study in contrast with its blue fabric and metal applications on the gear lever, steering wheel and air vents.
Photos: GM
Despite its easy-to-park dimensions (just 3.5 m long and 1.5 m wide), the Matiz M3X feels surprisingly roomy inside. At 1.5 m, it stands taller than most mini-cars and the wheelbase of just under 2.35 m is also above average. This means that, due to the high seating position, the Matiz M3X can comfortably accommodate four adults. The study offers effective additional luggage accommodation with roof rails, which not only underline the car's sporty appearance, but also make it easy to attach any kind of carrier system. Even when fully loaded, the power plant of the Matiz M3X will provide excellent performance: The smooth and economical 1.0-litre four-cylinder engine generates 47 kW/64 hp at 5,400 rpm and is good for a top speed in excess of 150 km/h.
(Sept 20, 2004)
---
---